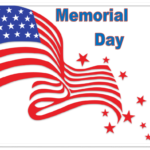 Come join us at 9:00 AM on Memorial Day, May 28, 2018, at the Montgomery Veterans Memorial in Montgomery Veterans Park for a brief flag raising ceremony to honor the servicemen and servicewomen who gave their lives serving the United States.
The Memorial is accessible from the Upper Parking Lot of the park and there is handicapped parking and also access to the nearby 9-11 Memorial.
The Montgomery Veterans Memorial is located adjacent to the upper parking lot of Montgomery Veterans Park, Harlingen Road, approx. 1/8 mile northeast of the corner of Harlingen and Devon Road, before Estates Blvd.  Event presented by the Montgomery Twp. Veterans Memorial Committee. For further information, email the MVMC at mvmc@twp.montgomery.nj.us.