PATRIOTS DAY OPEN HOUSE
Monday September 11, 2017
9-11 Monument
Upper Parking Area
Montgomery Veterans Park
Harlingen Road
Belle Mead, NJ 08502
Two 'open house' hours of observance with MVMC volunteer staff available to answer questions will occur on Monday, September 11th at 9:45 AM and again at 7 PM. These two times are set up to foster remembrance and quiet reflection on the tragic events of the day as well as the bravery displayed by those who responded to the attack.  This is also a time to foster awareness when those who do not remember that day can learn about the occurrence and how it impacted specific lives, their loved ones, and indeed, all of America. The recently improved 9-11 Memorial site is also available daily during park hours to any respectful visitors.
____________________________________________________________________________
Memorial Day Ceremony
GO HERE FOR PHOTOS OF EVENT
10:00 am, Monday, May 29, 2017
Montgomery Veterans Memorial
Upper Parking Area
Montgomery Veterans Park
Harlingen Road
Belle Mead, NJ 08502
Come join us Monday, May 29 – Memorial Day 2017 – at the Montgomery Veterans Memorial in Montgomery Veterans Park for an hour to honor the servicemen and servicewomen who gave their lives serving the United States. There will be a ceremony at the Veterans Memorial at 10:00 am, concluding at the nearby 911 Memorial. The event will be held rain or shine.
The Ceremony will include brief speeches by (in order) Donato Nieman, Township Administrator; Mark Caliguire, Somerset County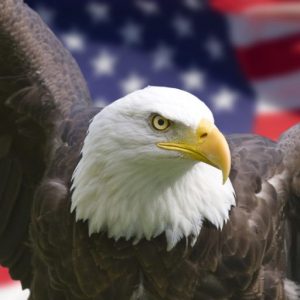 Freeholder and Veterans Memorial Committee Advisor; Pat Graham, Veterans Memorial Committee Liaison; and Ed Trzaska, Mayor of Montgomery and Veterans Memorial Committee Advisor.
We will conclude at the 911 Memorial with a re-dedication and ceremonious flag-raising using a Capital-flown flag provided by Congressman Leonard Lance. Montgomery Township Resident Eric Bulger, Retired Police Officer who was at Ground Zero on 9 11 and the weeks following will also speak.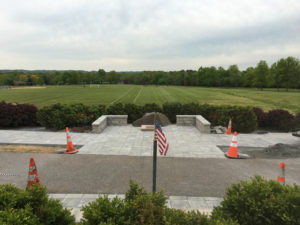 The 9-11 Memorial has been updated with a new patio area and landscaping through the EP Henry HEROSCAPING Program. All hardscaping materials have been donated by EP Henry and additional materials, to include labor and landscaping, have been donated through a team-effort by Montgomery Township Public Works, Montgomery Cub/Boy Scouts, and several local businesses.
The ceremony will last approximately 30 minutes and there will be a 30 minute open house of both memorials afterwards.
The POW/MIA CHAIR OF HONOR will be on display and members of the Veterans Memorial Committee will be on hand to answer questions.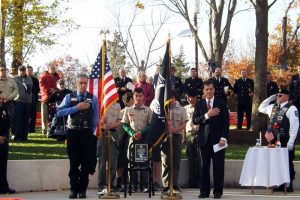 Both memorials are accessible from the newly paved Upper Parking Lot of the park and there is handicapped parking and accessibility (see locator map).
More information about the 9-11 restoration project can be found at: http://www.landscapemarshal.vet/911-memorial-1.html  and info on Revolutionary War Hero General Richard Montgomery, our Township's namesake, can be found at: http://www.landscapemarshal.vet/montgomery-initiative.html
The Montgomery Veterans Memorial is located adjacent to the upper parking lot of Montgomery Veterans Park, Harlingen Road, approx. 1/8 mile northeast of the corner of Harlingen and Devon Road, before Estates Blvd. (see locator map.)  Presented by the Montgomery Twp. Veterans Memorial Committee. For further information, email the MVMC at mvmc@twp.montgomery.nj.us .
http://montgomeryveteransmemorial.org/category/news/
_________________________________________________________________________________
Veterans Day Celebration 2016
3:00 pm, Friday, November 11, 2016
Montgomery Veterans Memorial
Upper Parking Area
Montgomery Veterans Park
Harlingen Road
Belle Mead, NJ 08502
You're invited!
In sharing President Eisenhower's 1954 Veterans Day Proclamation – "In order to insure proper and widespread observance of this anniversary, all veterans, all veterans' organizations, and the entire citizenry will wish to join hands in the common purpose" – The Montgomery Veterans Memorial Committee would like to invite everyone to our Special Veterans Day celebration this November 11th.
This Veterans Day marks the 5th Anniversary of our Memorial, located in Montgomery Veterans Park off of Harlingen Road in Belle Mead.
Veterans Day is about Honoring Those Who Have Served and perhaps nowhere is that more important than in Montgomery!
Our very namesake, General Richard Montgomery, was not only a distinguished leader who served our country honorably but is widely recognized today as America's first national hero after his courageous efforts in battle and falling on December 31st, 1775 in the Battle of Quebec.
As part of this year's festivities, there will be a POW/MIA Chair of Honor Dedication sponsored by Rolling Thunder. This particular dedication is occurring across the country and is specifically meant to honor those Veterans who served – numbering well over 80,000 – who never made it back home.
The afternoon's event, which begins with a parade down Harlingen Road, speeches and patriotic music by the Montgomery High School marching band, typically lasts a little over an hour.
Please plan to arrive by 2:45pm as Harlingen Road leading to the upper parking lot in both directions will be closed for the parade.
All are welcome! The Veterans Memorial as well as the 911 Memorial and all areas of Veterans Park are now fully accessible to those in wheelchairs and with walkers etc…
Open invitation!
As Americans, Recognizing and Appreciating Veterans is not limited to just one day in November, on Veterans Day…
While everyone is welcome at the Veterans Day celebration as they are welcome year round at the Memorial and Park itself, we extend an invitation to all to be more cognizant of the many Veterans in need throughout the rest of the year, on the other 364 days!
We invite everyone to remember that our lives today as we know them, our freedoms, our liberties, our pursuits of happiness, are assured 365 days a year because of the sacrifices – and ultimate sacrifices – of our countless Veterans.
As Americans, Recognizing and Appreciating Veterans is an ongoing and forever-perpetual duty, obligation, and responsibility – such extending well beyond just a single day.
Montgomery Veterans Memorial Committee
——————————————————————————————
Dedication Ceremony – November 11, 2011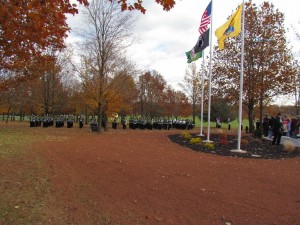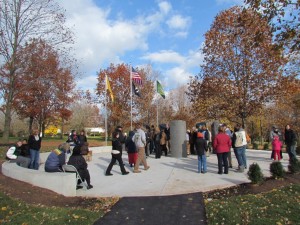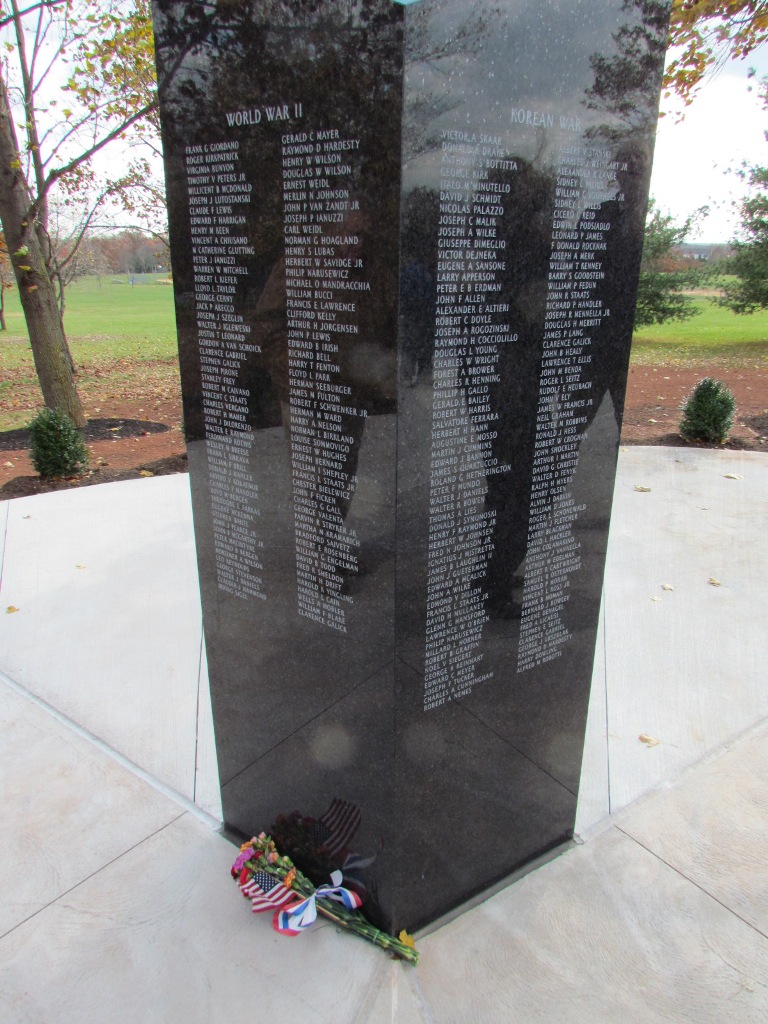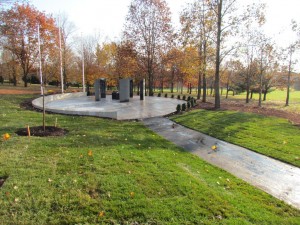 September 2011 Progress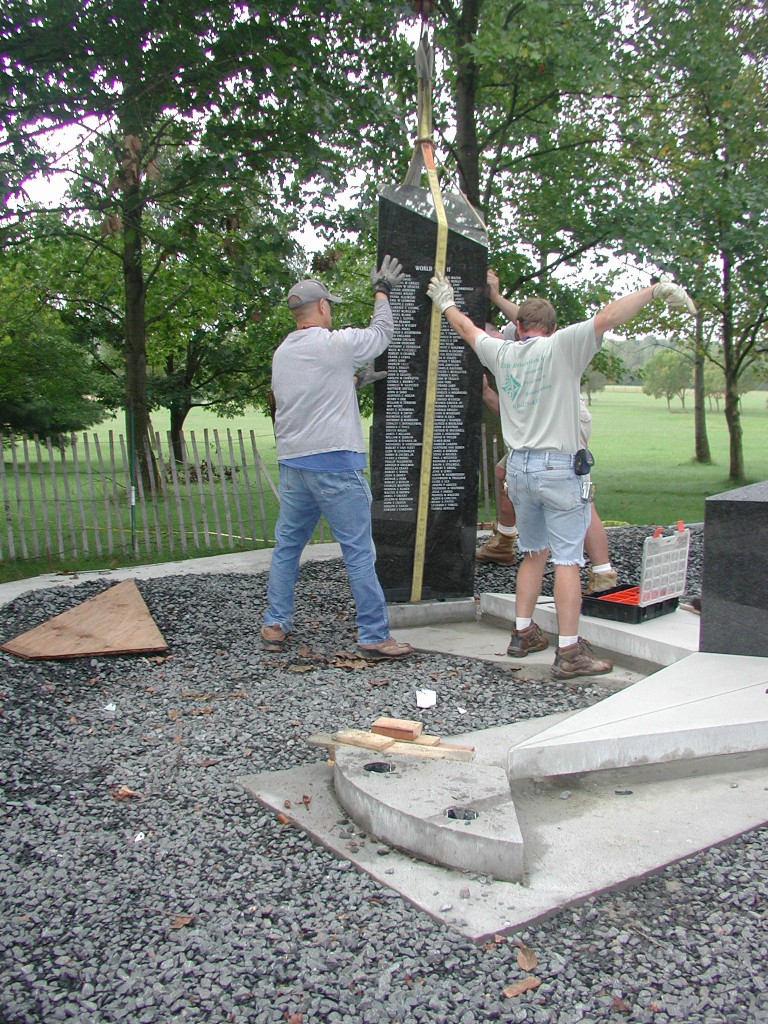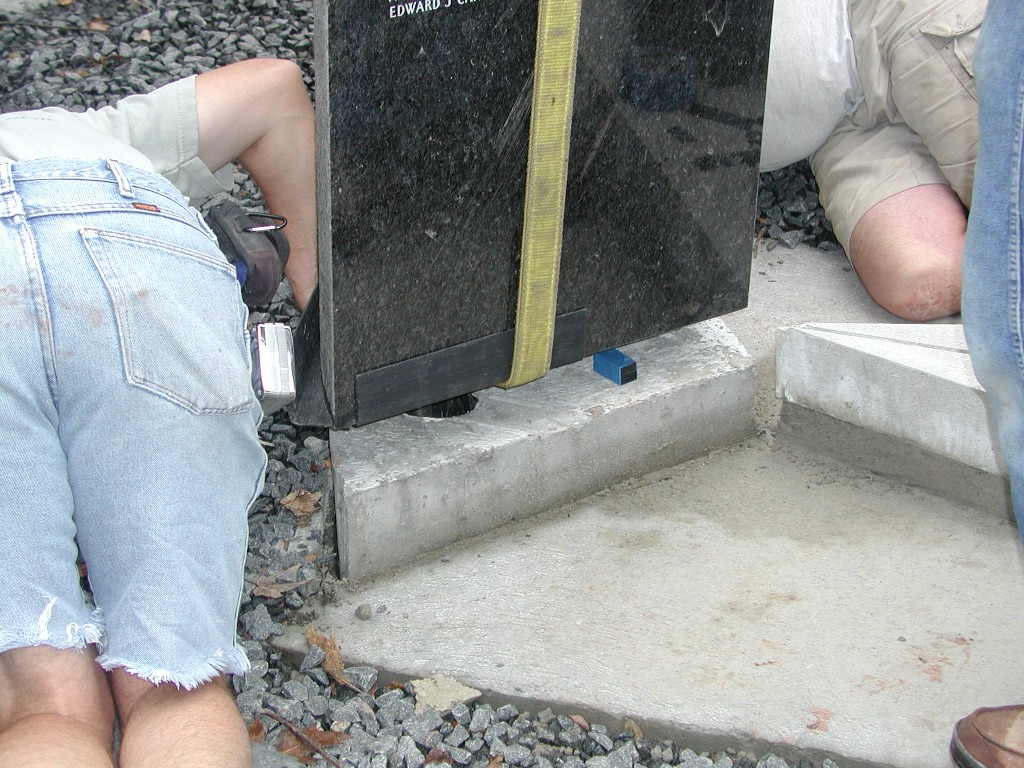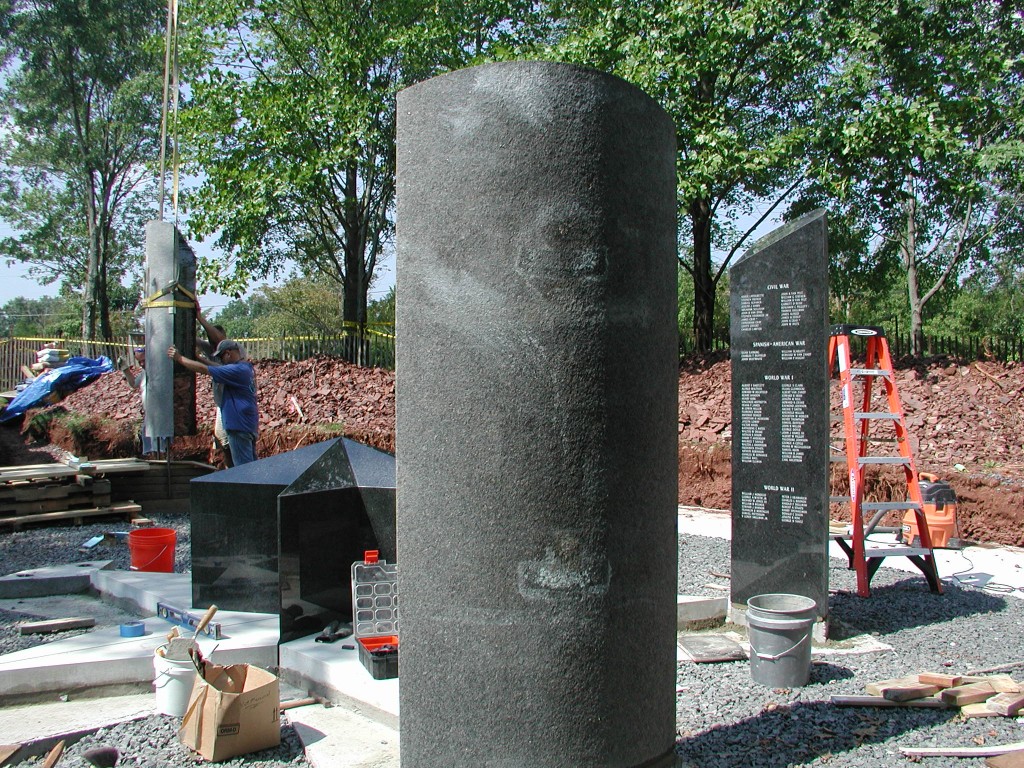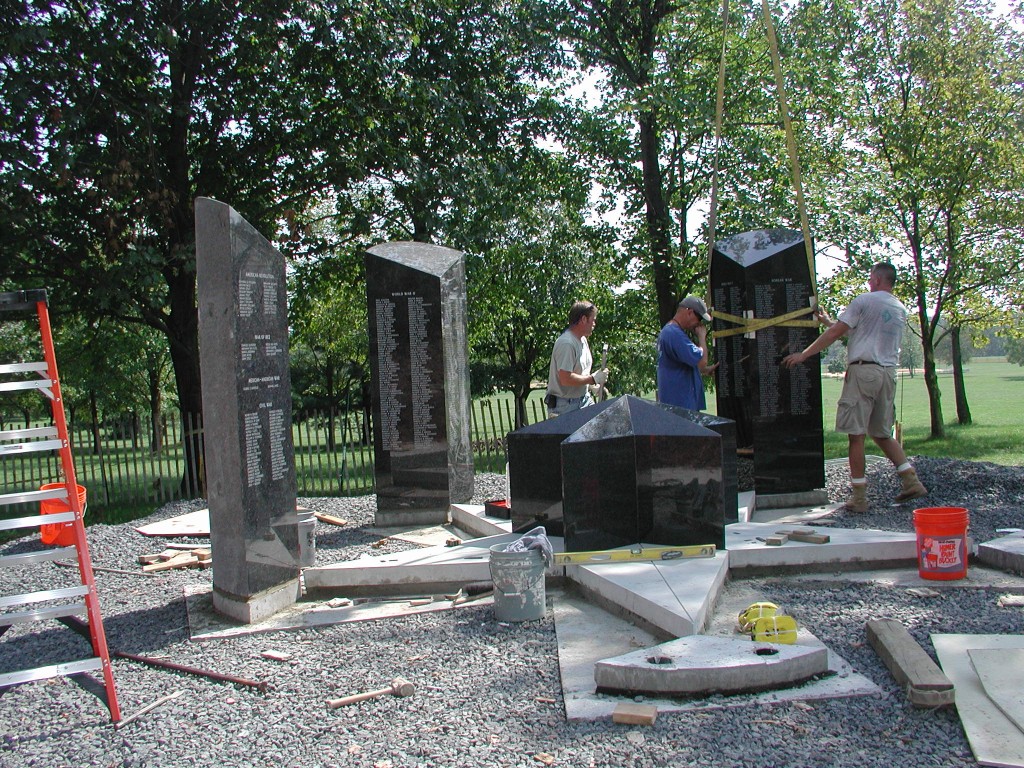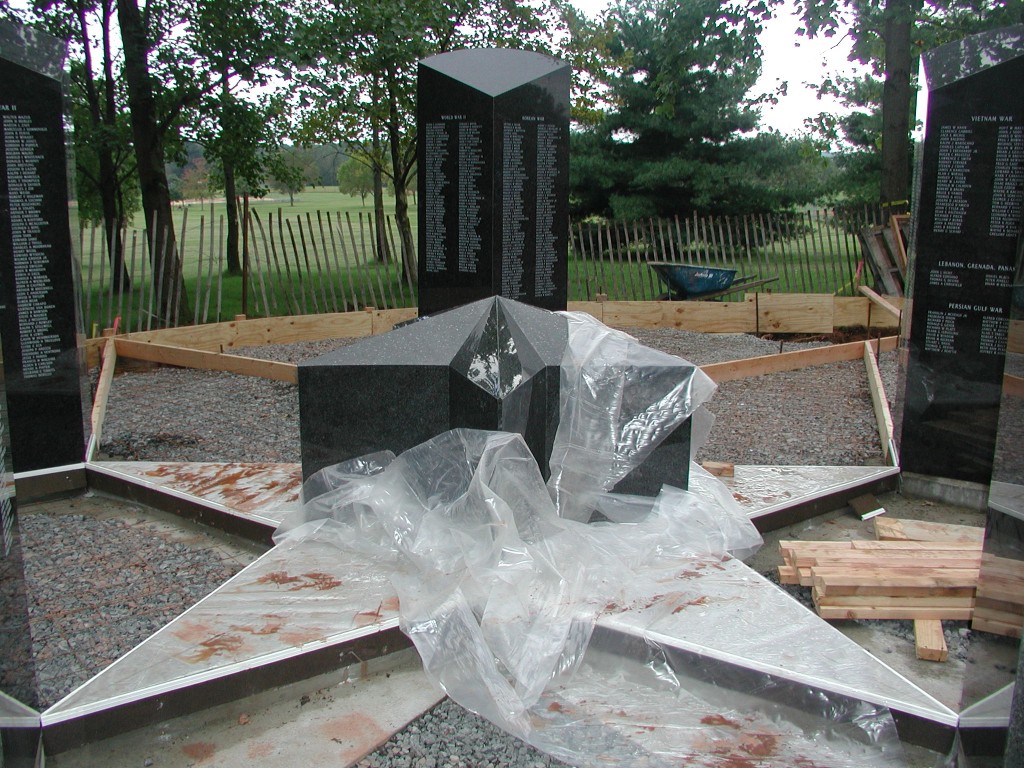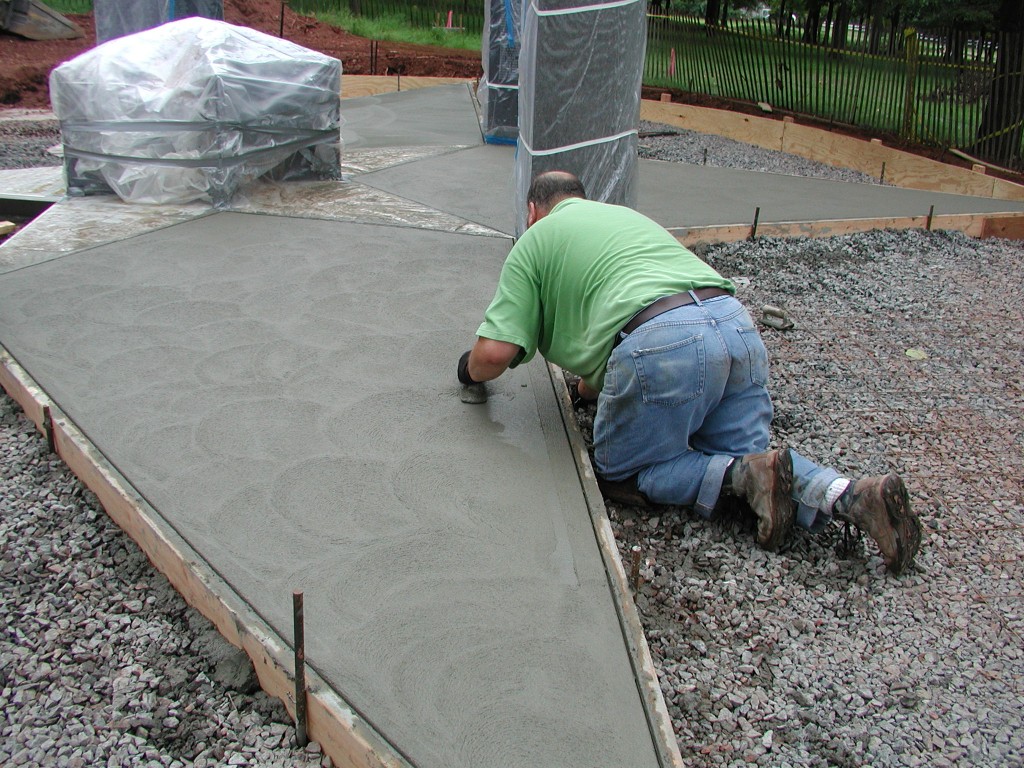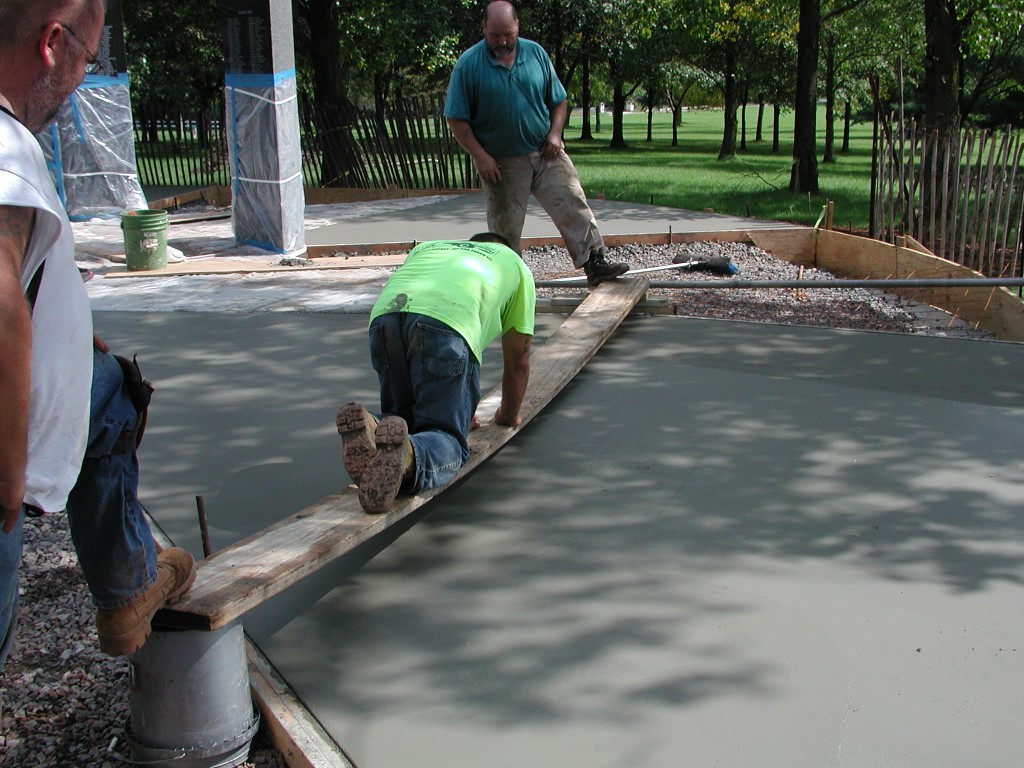 Veterans Memorial Groundbreaking a Big Success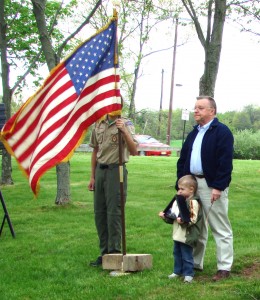 As a cool breeze blew and the rain held off, the groundbreaking for the Montgomery Veterans Memorial took place April 29th at Montgomery Park with an assembled crowd of township leaders, veterans, MVM committee members and other supportive residents, and a young Marine home on leave from Afghanistan.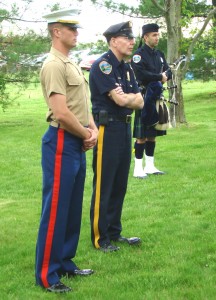 Bagpipes, played by Police Lt. Jim Curry, opened the ceremony and were followed by the Color Guard from Boy Scout Troop 46.  Hugh Dyer, MVM committee chair, delivered brief remarks – taking the opportunity not only to welcome those present and describe the project that will unfold in the coming months, but also to remember two remarkable men, Jerry Cianfrocca and John Warms, whose vision, dedication and work years ago made the Montgomery Veterans Memorial possible.
Aisling Tyndall, a student at Montgomery High School, sang the National Anthem beautifully.  Mayor Mark Caliguire spoke eloquently about the importance of remembering the contributions and sacrifices of veterans and their families.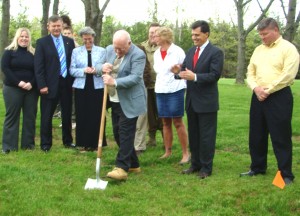 Members of the MVM committee were then invited to gather around a well-used but freshly painted shovel to officially break ground.  Those present, and many others, then assembled at the Princeton Elks Lodge in Blawenburg for a benefit reception, at which more than $4,000 was raised.  It was a good day for Montgomery, and an important benchmark for the Montgomery Veterans Memorial.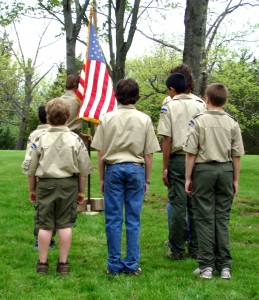 The memorial will be dedicated on Veterans Day, November 11, 2011.
_________________________________________________
Montgomery PBA Supports Veterans Memorial with Matching Funds
March 11, 2011 … Members of Montgomery Township's Police Benevolent Association (PBA #355), voicing strong support for the town's Veterans Memorial project, have established the Montgomery Veterans Memorial Challenge. The PBA will provide a one-to-one match for donations to the memorial, up to a total of $2,500.
"We have a number of veterans among our ranks and we're proud to be part of a community that honors its wartime veterans in a manner as special as this memorial," said PBA President Brian Hofacker. "We hope our challenge will inspire residents to give generously, knowing their donation will be doubled with PBA funds."
Checks made out to Montgomery Veterans Memorial/PACF should be mailed to the Princeton Area Community Foundation, 15 Princess Rd., Lawrenceville, NJ 08648. Donations and pledges are also accepted online at www.MontgomeryVeteransMemorial.org.
Veterans Memorial Committee chairman Hugh Dyer expressed delight on behalf of the committee intent on constructing the memorial this summer. "The PBA's pledge is very generous, and comes at a critically important time," said Dyer. "It isn't every day that a donation of $50 turns into $100, or $250 turns into $500 — just like that. We can't thank them enough."
The Veterans Memorial project has long been planned, and is now coming to fruition. The main components of the memorial – a central pentagram and five columns engraved with nearly 900 veterans' names – will be delivered in late May. Engineers and contractors are on site to survey and prepare for construction and installation.
An official groundbreaking is planned for Friday, April 29 at 5 p.m. at the memorial location in Montgomery Park, near the sharp curve in Harlingen Road. A fundraising reception will be held immediately afterwards at the Elks Club in Blawenburg.
From the beginning, the Veterans Memorial project has been driven by volunteer time and labor, with cooperation from township staff and bipartisan support from local elected officials. About $15,000 of new donations is needed immediately to complete the primary, central portion of the memorial this summer. Additional funds will be raised for amenities such as granite benches, landscaping and a pathway connection.
Funds donated over the years have been held by Princeton Area Community Foundation in interest-bearing accounts.
"It's important that our previous donors know their dollars were kept safe and are being used wisely," noted Veterans Memorial Committee chairman Hugh Dyer. "We are so close to the finish line now, and very grateful to all those who gave over the years. Now, we have a final goal to reach, to see this truly special memorial in place this summer. The PBA is stepping up in a big way to help make that happen, and we hope people will accept their challenge and help us reach this goal."
About $15,000 is needed to complete Phase One of the project. Donations can be made through the web site or via check payable to Montgomery Veterans Memorial / PACF and mailed to the Community Foundation, 15 Princess Rd., Lawrenceville, NJ 08648.
"We are optimistic that Montgomery residents will step up to this challenge," said President Hofacker. "The time to act is now."
---
"MONTGOMERY — By Memorial Day, a township group hopes to unveil a project to the public that will honor the township's veterans.
The group – the Montgomery Veterans Memorial Committee – includes about 20 people, many of whom are veterans, local businesspeople, school leaders, current and former township officials, police officers and residents. The Township Committee in 1991 appointed the ad hoc group to create an appropriate memorial for township veterans.
Phase I of the memorial project, when completed in spring 2011 at the northern portion of Montgomery Park on Harlingen Road, will include a central pentagram; five three-sided pillars engraved with the names of veterans and the war or wars in which they served; a small plaza connecting the granite pieces; three flagpoles, basic lighting and landscaping.
Veterans Memorial Committee Chairman Hugh Dyer said at least $20,000 in private donations still needs to be raised to complete Phase I's price tag of approximately $200,000.
Phase II, expected to cost an additional $110,000, is needed to complete a full outer plaza, finished walkways, granite benches and enhanced landscaping details. To date, Dyer said no funding has been made available for that part of the project.
However, Dyer said he is confident the first fundraising goal for Phase I will be met. In understanding the tough economic climate, he said the committee has adjusted the project to cut costs without changing the essence of township-based architect Tom Lee's design.
"Montgomery is a community of generous people who are eager to honor the service and sacrifices of war-time veterans," he said. "These are tough times and we realize that not everyone can give as much as they'd like. But we also know that people have been waiting a long time for this memorial. We now have the opportunity to do it."
Construction is expected to begin early next year. Once the project is completed, it will honor about 850 township veterans serving in all wars from the American Revolution to current conflicts. The largest group is from World War II.
Years Of Discussions:
The plan to construct the township's first veterans memorial has been at least eight years in the making. After it was formed, the Montgomery Veterans Memorial Committee wasn't essentially active until 2001, Dyer said.
That year, under the leadership of Chairman Jerry Cianfrocca, the committee was reactivated and began working on creating an appropriate veterans memorial. The committee decided to name it the "Montgomery Veterans Memorial" with the intentional omission of an apostrophe. An apostrophe would indicate possession of the "memorial" of or by the veterans. The clear intent, Dyer said, is that ownership of the memorial is vested in the people of the township for the purpose of honoring the veteran.
The first major accomplishment of the committee was securing the services of Lee, who agreed to serve pro bono as the project's architect and general contractor. Lee said he explored various concepts with the committee and developed the design as it exists today.
"We're hoping to make people aware of how nice a memorial this will be for a small community," Lee said.
Facing Hurdles:
Dyer said one of the project's major hurdles, which also led to some delays, was selecting an appropriate site for the memorial.
A small hilltop next to Pike Brook and overlooking Montgomery Park from the south initially was selected by the committee and approved by the Township Committee. However, the committee later learned there were environmental concerns resulting from building too close to a stream corridor, Dyer said.
The committee then chose the future Skillman Village for its site after the township in 2007 bought the former North Princeton Developmental Center property, which was an in-patient psychiatric-care facility and Village for Epileptics that the state closed in 1996. The property then became known as "Skillman Village" and was envisioned by municipal officials to become a thriving cultural, educational, recreational and civic hub within a pedestrian-oriented, campus-like environment. However, that site is now being sold to Somerset County for a park.
Lee said the memorial committee felt Montgomery Park would be a more appropriate location for the memorial.
"We wouldn't want our memorial next to a movie theater or a water slide," Lee said, noting the Montgomery Park location is surrounded by an existing grove of trees.
In October, the Township Committee approved that site for the memorial committee's use, and permission was granted. Louise Wilson, a former township committeewoman, said she believes the memorial in the future will become the focal point of community gatherings, Memorial Day, Independence Day and Veterans Day tributes and a "comfortable and intimate" place for people to come and reflect." —Article Originally Published January 8th, 2011 (http://www.mycentraljersey.com/article/20110102/NEWS/110102010/Montgomery-to-dedicate-memorial-honoring-vets-of-world-s-wars)